The Man of Steele
By Brian Wubbena, Director of Culinary
Brian Steele is a quiet chef with a humble demeanor at our North Austin Arboretum location. He's an Industry professional who I heavily rely on when it comes to mentoring other chefs on the business side of things, as well as developing new dishes and fine-tuning current menus. Brian possesses a natural understanding of how numbers work, and his actual cooking skills are second to none. I always say that to be a good chef you have to be an outstanding cook and have a romance with numbers. Brian is not a good chef. He is a great chef, and if you've eaten at our Arboretum location, you know this to be true.
Chef Steele hails from the small town of Childress, Texas. He got his first taste of the business at Disney World while participating in a summer program at Texas Tech. After deciding to leave the university, his parents encouraged him to pursue any dream that he had. Although he considered film school (this guy knows film like you wouldn't believe), he decided to pursue cooking. He started working as a dishwasher, worked his way up to a cook, and soon realized that he acquired a natural ability in the kitchen. Cooking also combined his interest in both chemistry and art. According to Brian, "food is art with instant gratification. I always love taking something as mundane as a potato, spending hours on it and performing a magic trick for our guests." That said, his next step was culinary school.
While researching schools, Brian discovered that the majority of the Scottsdale Culinary School instructors were Culinary Institute of America graduates. It seemed pretty obvious to him that he could get the CIA education at a fraction of the price. Part of the culinary program was an internship, and a young Chef Steele decided that New Orleans was the next place to be.
After completing his internship, he decided to stay in New Orleans and continue working for Dickie Brennan Restaurants. He had fallen in love with the culture, uniqueness of food, and the people. This went well for several years as he gained a ton of skill and knowledge. Then Hurricane Katrina hit in 2005. Brian is the only person that I know who went through Hurricane Katrina, so it was very interesting to learn about his experience.
Chef Brian on Hurricane Katrina:
"When the hurricane first hit, we thought that we'd be okay. Then the levees broke and we lost everything. There was no time to shut down properly and it went on for so long that, in one of the restaurants, we had left over ducks that literally melted through the drains and into the dining rooms. People were just taping up refrigerators full of spoiled food and leaving them on the streets. The air felt toxic and I felt sick every time I left."
During this time, Brian worked with the Red Cross feeding 20,000 people a day. I do not know of a lot of people who are selfless enough to take that on, especially after losing everything. Following Hurricane Katrina, Brian and his wife relocated to Austin in order to reconfigure their lives. They had friends and family living there so it seemed like a no-brainer. After a few years, we were lucky enough to welcome him into the Truluck's fold and he has now been with us 12 years.
Here is the part that I always enjoy, especially considering Brian's quiet nature. I asked him what he was most proud of in regard to his career. Without hesitation, he gave me the following:
"I've been eternally blessed. I had a good childhood with parents who love and encourage me. In this business, you meet a lot of broken people who have never had a chance to be successful at something in life. I feel obligated in a way to give back and feed the spark that people have within them. After awards and accolades, the crowning glory, for me, is to mentor young chefs."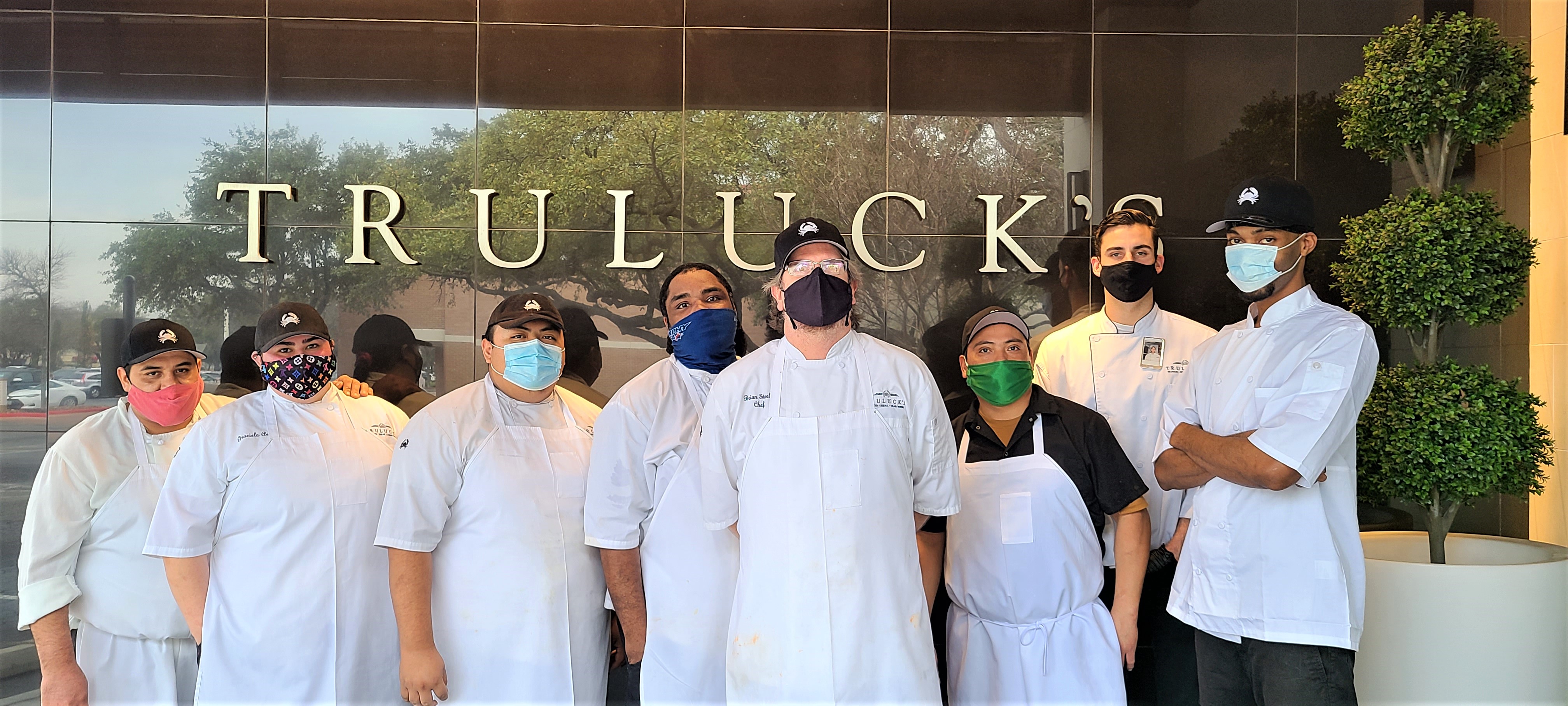 There is an old saying 'feed a man a fish and he eats for a day. Teach a man to fish and he eats for a lifetime.' That simple message asks humankind to nurture with knowledge, to reach out to those in need and inspire others to do the same. That is life's greatest necessity and its most precious gift. – Superman