7 Turkey Leftover Recipes to Spice Up with Truluck's Seasonings
Put those turkey leftovers to good use with Truluck's seasonings.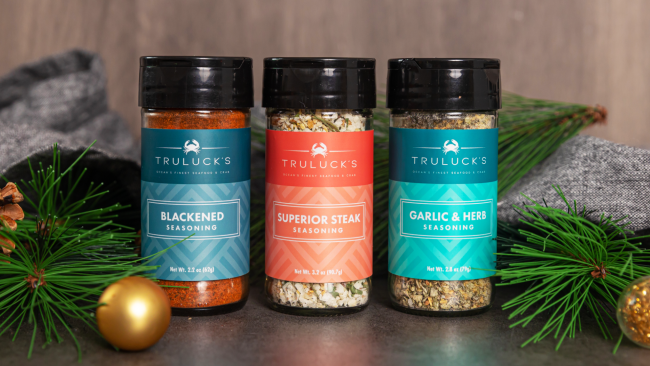 Long after the Thanksgiving meal is over and dishes are cleaned and put away, there is one thing you can count on: turkey leftovers. And that's where creativity in the kitchen really kicks in.
Chef Manny Vera, Regional Chef Partner at Truluck's Dallas, Chef Odel Arencibia, Regional Chef Partner at Truluck's Miami and Fort Lauderdale, and Chef Michael Cerny, Regional Chef Partner at Truluck's Austin downtown and Arboretum, know a thing or two about how to spice up Thanksgiving leftovers.
Here are seven turkey leftover recipes from our chefs to mix up your turkey routine and dazzle your tastebuds, featuring Truluck's seasonings.
1. Turkey Sandwich
Ingredients
1 thick slice turkey breast
Truluck's Garlic and Herb Seasoning
2 slices Texas toast, buttered and toasted
Butter
Cranberry apple compote
Stuffing
Gravy
Instructions
Season the turkey with Truluck's Garlic and Herb Seasoning and sear in a pan until golden brown. Lather both slice of bread with cranberry apple compote. Place the turkey on one slice and top with a heaping spoonful of stuffing. Drizzle desired gravy over top, and place second slice of bread on top to enjoy.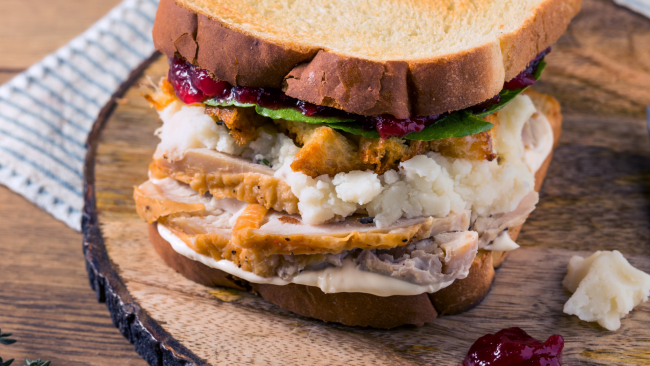 2. Turkey Mole
Ingredients
1 jar of Dona Maria brand mole
1–2 quarts of chicken stock
Shredded or sliced turkey
Truluck's Garlic and Herb Seasoning
Toasted white sesame seeds, for garnish
Instructions
In a sauce pot, empty the jar of mole. Add chicken stock and stir until desired thickness reached. Add turkey and season with Truluck's Garlic and Herb Seasoning to taste. Serve on a plate and garnish with toasted white sesame seeds. Enjoy with a side of Spanish rice.
3. Turkey Flautas with Fresh Guacamole
Ingredients
Turkey Flautas
Turkey breast and dark meat, shredded
Truluck's Superior Steak Seasoning
Olive oil
El Milagro corn tortillas
Guacamole
2–3 ripe avocados
2 Roma tomatoes, diced
½ yellow onion, diced
¼ bunch cilantro, chopped
½ serrano pepper, diced
2 tablespoons olive oil
Truluck's Superior Steak Seasoning
Instructions
Start the turkey flautas. Season shredded turkey with Truluck's Superior Steak Seasoning. In a pan, add enough olive oil to cover tortillas and heat on high until it begins to boil. Flash fry tortillas, submerging them in oil for 30 to 60 seconds. In a separate pan, place tortillas, fill with turkey meat and fry until golden brown.
Make the guacamole. Add avocados to a clean mixing bowl and smash with a fork. Add tomatoes, cilantro, serrano pepper and olive oil. Mix all ingredients and add Truluck's Superior Steak Seasoning to taste. Mix until well combined and enjoy with turkey flautas.
4. Turkey "Biscuits" and Gravy
Ingredients
Gravy
Turkey breast and dark meat, chopped
Truluck's Blackened Seasoning
2 eggs
2 slices Texas toast, buttered and toasted
Instructions
Heat leftover gravy and season with Truluck's Blackened Seasoning to desired heat level. Chop up turkey breast and dark meat and add to the gravy. While heating, fry two eggs and season. On a clean plate, place the toasted bread and ladle the gravy with chopped turkey over the toast. Top with fried eggs and sprinkle Truluck's Blackened Seasoning.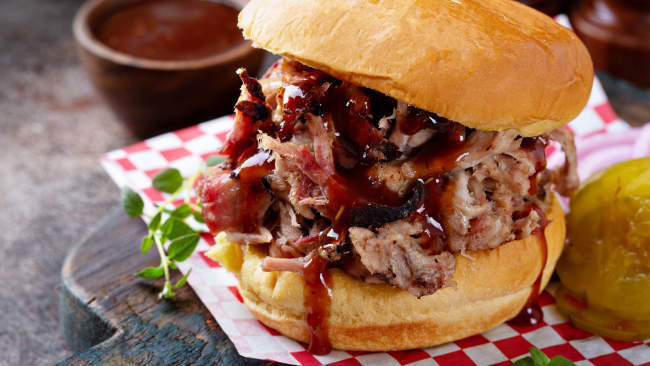 5. Pulled Turkey BBQ Sandwiches
Ingredients
Mesquite smoked BBQ sauce of your choosing
Turkey breast and dark meat, shredded
Truluck's Blackened Seasoning
Hawaiian brioche buns, buttered and toasted
Bread and butter pickles, optional
Sliced onions, optional
Instructions
Heat mesquite smoked BBQ sauce. Add shredded turkey and season with Truluck's Blackened Seasoning to taste. On a clean plate, place the toasted bun and spoon desired amount of turkey filling on bottom bun. Top with bread and butter, pickles and onions, if using. Finish with a top bun and enjoy.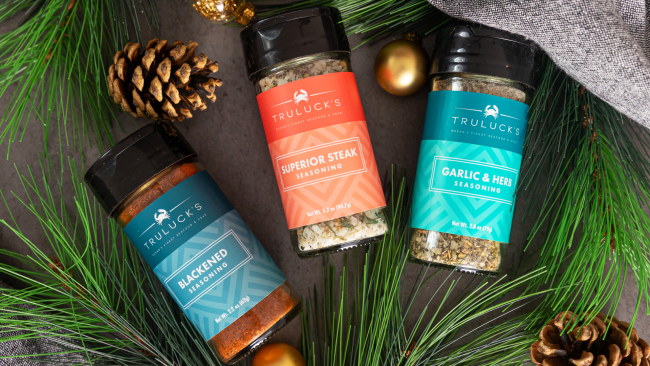 6. Turkey Shakshuka with Feta
Ingredients
1 tablespoon extra-virgin olive oil
5 garlic cloves, thinly sliced
1 large onion, halved and thinly sliced
15 each cherry tomatoes, halved
1 large red bell pepper, seeded and thinly sliced
1 cup roasted turkey breast, diced
1 teaspoon Truluck's Garlic and Herb Seasoning
1 teaspoon ground cumin
1 teaspoon sweet paprika
⅛ teaspoon ground cayenne, or to taste
¼ cup tomato paste.
1 cup chicken stock, unsalted
½ teaspoon kosher salt, divided
½  teaspoon ground black pepper, divided
1 ¼ cups feta cheese, crumbled
3 large eggs.
¼ cup cilantro, roughly chopped
½ teaspoon Crystal hot sauce, optional
Instructions
Heat oven to 375° F. Heat oil in a large skillet or sauteed pan over medium-low. Add garlic, onion, cherry tomatoes and bell pepper and cook gently until very soft, about 10 minutes. Add diced turkey and fold with the veggie mix for about 2 minutes. Stir in all Truluck's Garlic and Herb Seasoning, cumin, paprika and cayenne and cook for 1 minute. Add tomato paste, chicken stock, salt and pepper and simmer for about 10 minutes.
Transfer the mix into a cast iron pan and create a well in the center for the yolk to settle as it cooks. Gently crack eggs into the skillet over the tomatoes. Season eggs with salt and pepper and bake for 7 to 10 minutes until eggs are just set. Finish with a sprinkle of feta cheese, hot sauce and fresh chopped cilantro.
7. Turkey Benedict
Ingredients
Bearnaise Sauce
3 ounces white wine
1 ½ ounces white vinegar
1 teaspoon whole black peppercorns
1 ounce shallot, sliced
1 tablespoon tarragon, chopped and divided
16 ounces butter, melted
4 egg yolks
Salt, to taste
Pepper, to taste
Tabasco, to taste
Turkey Benedict
1 ounce white vinegar
2 large eggs
1 English muffin, halved
1 ½ tablespoons butter, divided
1 tablespoon Superior Steak Seasoning, divided
¼ avocado, sliced and divided
3 ounces turkey (white, dark or mixed), shredded and divided
3 ounces béarnaise sauce
1 teaspoon chives, finely sliced
Instructions
Make the béarnaise sauce. In a small sauce pot, add 3 ounces of white wine, 1 ½ ounces of white vinegar, black peppercorns, shallot, and half the tarragon. Put on the stove over medium-high heat and bring to a low simmer to reduce the liquid slowly to concentrate the flavor.
Slowly melt 16 ounces of butter over low heat. While the tarragon reduction is reducing, and butter is melting, separate four egg yolks from the whites. Place the yolks into a medium-sized mixing bowl. Once reduction has been reduced by half, and your butter is completely melted,  place a damp towel under the mixing bowl of yolks to hold the bowl in place. Strain the reduction, saving the liquid only.
While whisking the yolks with one hand, slowly drizzle in one tablespoon of the reduction into the yolks. Once fully incorporated, slowly add the melted butter until you have a thin, mayonnaise-like consistency. Add the rest of the chopped tarragon, check the flavor and adjust with salt, pepper and tabasco. Set aside on top of your stove to keep warm.
In a medium-sized sauce pot, bring 5 cups of water with one ounce of vinegar to a boil and reduce to a low simmer. Crack eggs into a small bowl, careful not to break the yolks. Once the water and vinegar mixture is at a low simmer, use a slotted spoon to stir the water quickly to create a whirlpool effect. Quickly drop in the eggs one at a time into the middle of the whirlpool and set a timer for 3 minutes.
While the eggs are cooking, toast half the English muffin. Heat shredded turkey in a pan over medium heat with ½ tablespoon of butter and ½ tablespoon of Truluck's Superior Steak seasoning.
Once your timer goes off, the muffin should be ready for the turkey. Pull your eggs out and place them on paper towel to allot the excess water to drain off.
Spread a thin layer of butter across the top of your English muffin. Put half of the avocado on each muffin. Split turkey in half and place on top of each muffin. Push with your thumb directly in the middle of each pile of turkey to create a divot where the poached egg will rest.
Place your poached egg on top of the turkey and spoon an ounce and a half of bearnaise over each egg. Sprinkle a little Superior Steak seasoning over each egg and the finely chopped chives directly in the middle of the eggs.
Prep for turkey leftovers and shop Truluck's seasonings and see other cooking tips here.